4mac.com is your address for all your Mac Upgrades, expansions and accessories. The products in the webshop are mostly available from stock, so orders can be shipped the same day. 
We specialize in helping you, upgrading your beloved slowed-down Mac, by turning it into a superfast 21st century machine. With a large variety of SSDs, RAM and many other components for nearly every Mac, we are positive that after reading this page, you will find yourself in the upgrades menu! 
History
In 2006 it all started in Zaandam, The Netherlands when Bas Tel started a business in Apple hardware, service and a personal touch were our USP's. 
In 2008 we moved to Wormerveer, The Netherlands. At this location it became a more serious business.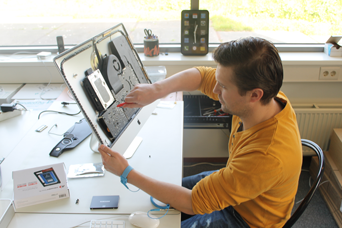 In 2012 we started our Dutch webshop onlinemacwinkel.nl, RAM and SSD upgrades were and still are our specialty.
In 2013 we moved back to Zaandam to a bigger office at the Penningweg 82, this is still our current location.
In 2017 a second webshop focused on the German market started, 4mac.de
In 2019 4mac.com started to serve the whole European market.  
4mac.com is a trade name of:
One2mac B.V.
Penningweg 82
1507DH Zaandam
The Netherlands 

Tel.: (+31) 756163779
E-Mail: [email protected]

Owner: Bas Tel

VAT Number: NL857437537B01

Commercial Register number: 68429843 – K.v.K. Amsterdam

Platform of the European Commission for online Dispute Resolution: http://ec.europa.eu/consumers/odr

We are not obligated or willing to take part in a procedure for Dispute Resolution at the Arbitration Board for Consumer Disputes.