22 Nov 2019
iMac 2019 Memory upgrade
iMac 2019 - RAM upgrades up to 128GB!
On the 19th of March 2019, Apple revealed its latest series of iMac's. As was expected, the design has not changed, however, the iMac processor, Graphics and RAM has received a serious upgrade. The new iMac's come equipped with the new generation processors, video graphics and faster 2666MHz DDR4 Random Access Memory! Luckily the memory is expandable once again and can be upgraded to a maximum of 128GB.

The year is 2019, but the new 21.5" iMac's are still being sold with a traditional 5400rpm Hard Disk Drive. Fortunately, this can be replaced with a Solid State Drive (Click here to find out your options). By default, the iMac has 8GB of memory and can be, for the 27 inch at least, be upgraded to a whopping 128GB! This turns your already fast iMac into a machine with beastly super-performance. Power consuming software such as photo and/or video editing software will run exceptionally smooth. 

When you order your new iMac, the costs for memory will - as usual - be disappointing. Luckily, OWC has an answer to match, in the shape of memory kits for the new iMac 2019! OWC offers these in the following capacities: 16GB, 32GB and 64GB.  

No high prices, but high performances, welcome to 4mac.com

Please click the below mentioned links to find the memory that is compatible with the iMac 2019.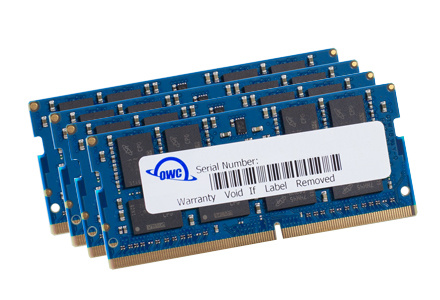 16GB (2x8GB) DDR4 2666MHz Memory
32GB (2x16GB) DDR4 2666MHz Memory
64GB (2x32GB) DDR4 2666MHz Memory

Processor: After a long time without any changes made to the processor, the iMac 2019 has finally received a sizable processor upgrade. The base Model comes equipped with a already powerful Quad-Core i3 processor which is upgradable to an 8th or 9th generation 6-Core i7 processor.

Apple has considerably boosted graphics too. With its faster processors, improved graphics and expandable memory, the latest generation iMac's is most certainly a fantastic addition to their already impressive assortment.